[Event]: Bio-Essence + Product Review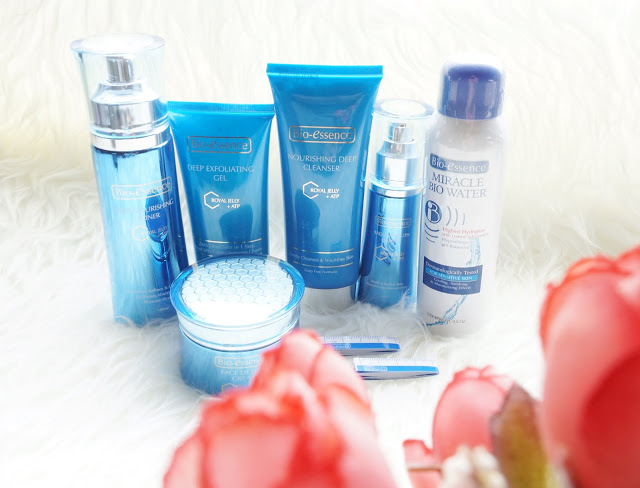 Pada event Mega Challange beberapa waktu lalu, sebanyak 100 pengunjung membuktikan manfaat produk Bio-Essence bagi kulit wajahnya, dan Blogger Stevie adalah salah satunya. Bagaimana hasil penggunaan produk Bio-Essence pada wajah blogger Stevie? Simak reviewnya berikut ini yuk.
Hello there, I'm back with an event report and this time its the Bio-Essence event which was held at Central Park Mall last Saturday. In this post I'll also review the products I got from the event. So stay tune and make sure you read till the end. Thank you Clozette Indonesia and Bio Essence for having me at the event! It was really fun to try out the mega challenge and experience my cheek shrunk 1 cm instantly right after the facial. This post will be kind of long so make sure you're sitting comfortably and prepare some snacks too. Enjoy!
Disclaimer: Hasil yang didapat berbeda sesuai kondisi masing-masing individu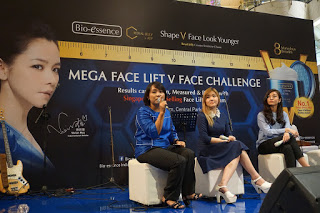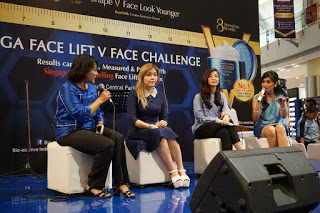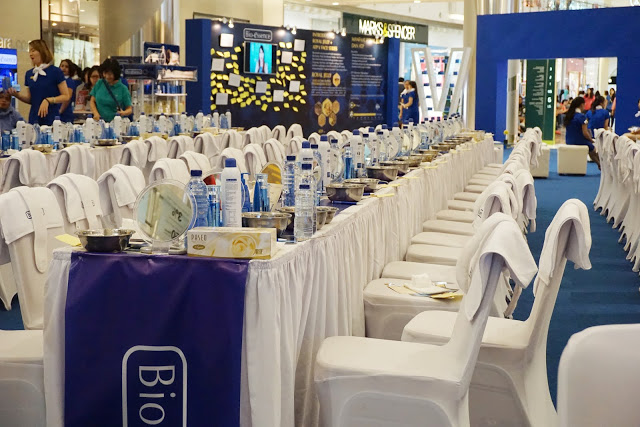 At the event there was beauty talkshow session with Clozette ID Ambassador & blogger Michelle Hendra and photographer Rachel Sutanto with the theme "How to Create Good Content on Social Media". Well as generations that has gone very much online we can't be far separated from our social medias as social medias are now considered as a tool for personal branding and it has become a mean for us to express ourselves and even share stories and inspirations about our life to the world. So on this event both these amazing individuals shared their insights about their personal tips on how to create a good content. If we're speaking of content it includes photography, writings and videos or any other medium you choose to publish your content.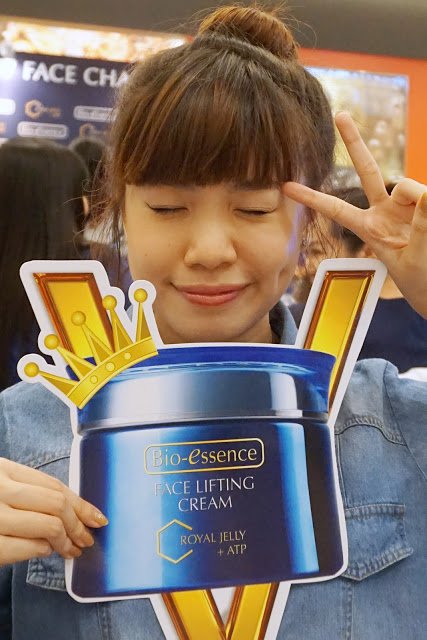 Excited to try out the Bio-Essence Face Lifting Cream.
They shared the tips of how to take good pictures and also how to maintain the wellness of our skin in order to have a good picture taken. I personally believe that knowing your angle and having a V-shaped face really does help to create a good picture and Bio-Essence has just made my wish come true! Cause now everyone can instantly get their face V-shaped and be picture ready. More about the products below, but Michelle Hendra also shared that she love to use mask while travelling e.g. during flights to help boost moisture and help the skin to still look decent when you land cause we all know how airplane air can dry up your skin a lot.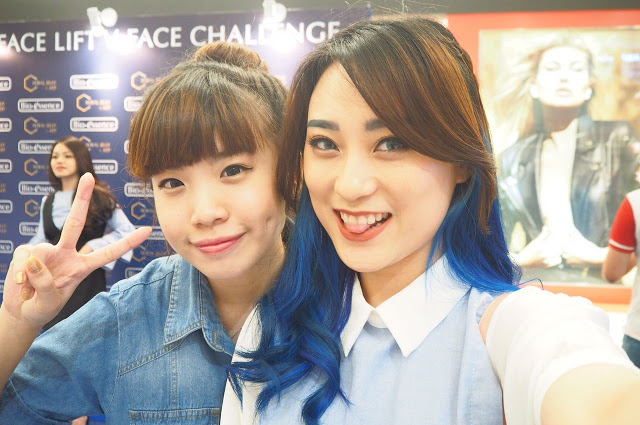 Yeay finally met @Hisafu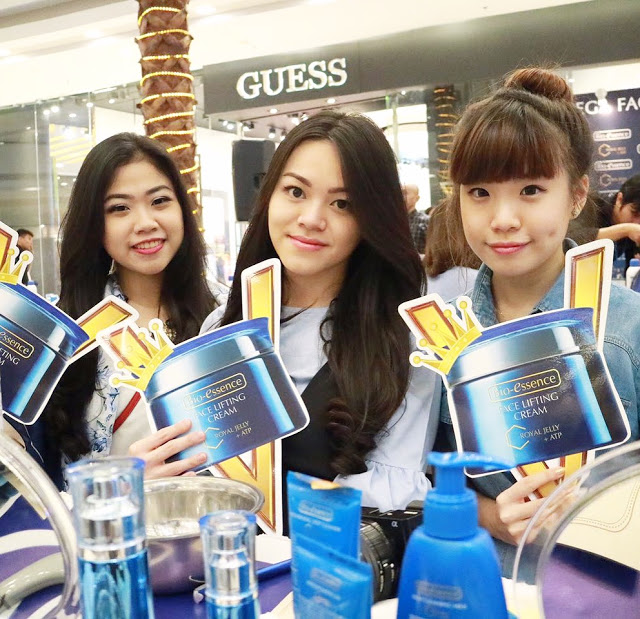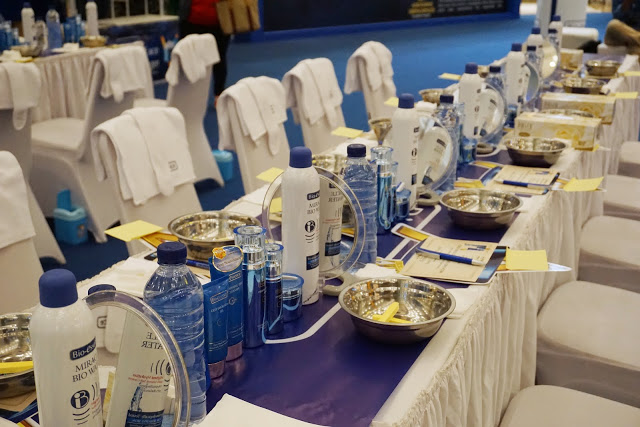 After the talkshow session we are asked to move to the Mega Challenge area to try out the products. Long tables are prepared together with all the products from Bio-Essence for each contestants to make sure a hygienic practice is being used. Each contestant was being handled by a personal therapist who'll make sure the product is being properly applied on your skin and they also massage the product into your skin in order to let the product works effectively on your skin.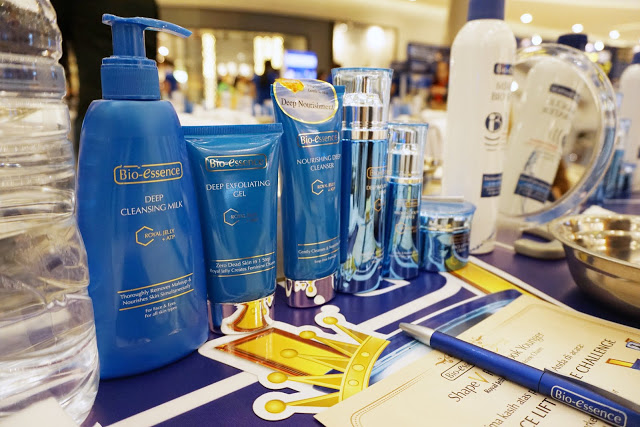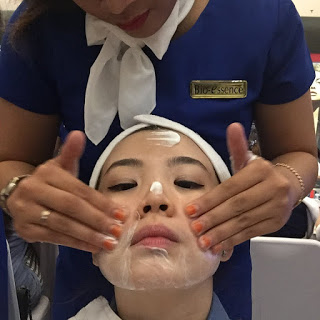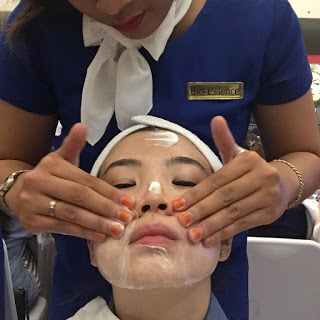 First my therapist introduce me to the product she's going to apply on my skin, I've very glad that the therapist are very well trained and has a good product knowledge about the products cause you know sometime they're those therapist who're not even familiar about the product which makes me question the credibility of the brand and products but thankfully this time it didn't happen.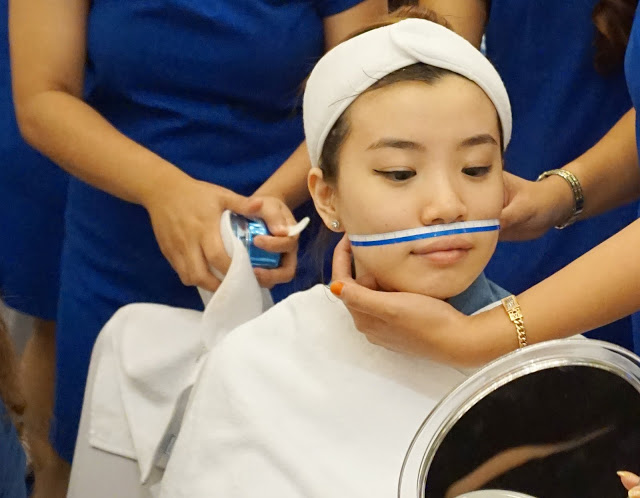 My therapist began measuring my face couture before applying the face lifting cream, my cheek is 13.5 cm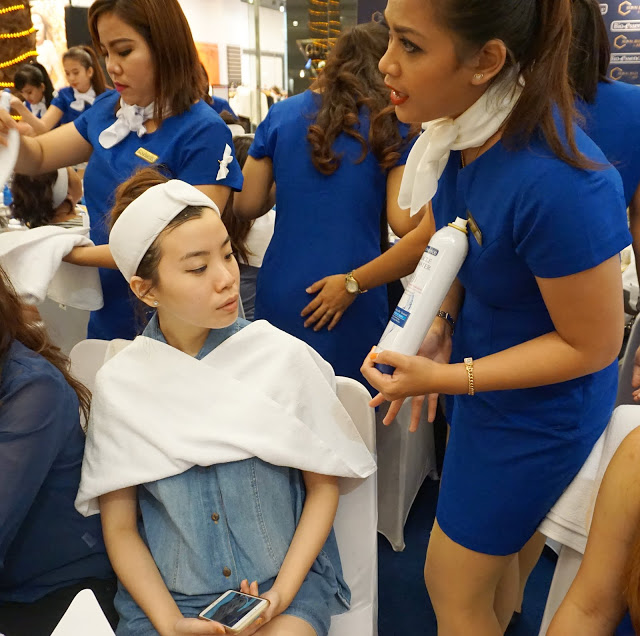 My therapist explaining about the Miracle Bio Water, which can also be used like a face mist.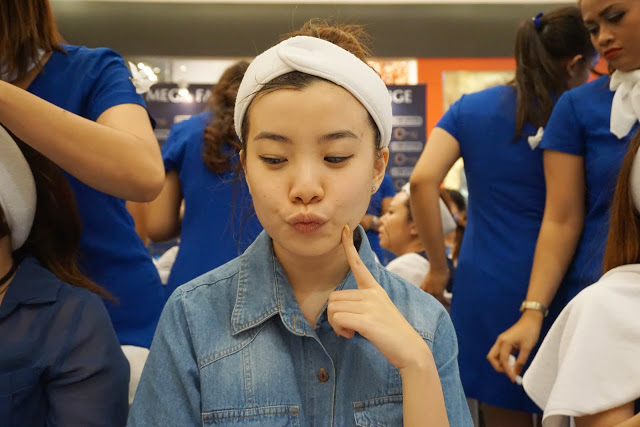 The v shaped face lifting cream can give you a cool or hot sensation, it may differ from each individuals and they said that if your skin feels hot it means you've been using skin care products that contain lots of chemicals and toxic that's why its hot but if you feel cool that means your skin care has been using natural ingredients. I was actually pretty scared at first, cause I have sensitive skin and I fear that the product would give me a hot burning sensation but thankfully it was very cool on my skin and I feel very refreshed right after using it.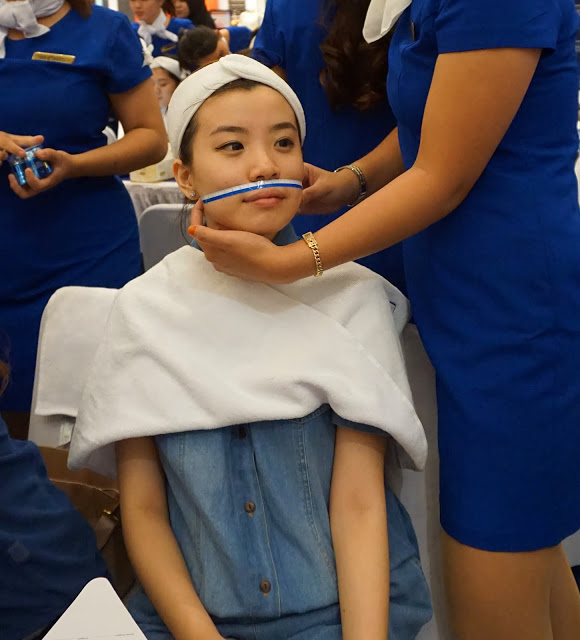 After waiting for 10 mins to wait for the product to absorb into my skin she began measuring again and now its 12.5cm, so I've lost 1 cm instantly ! Truly amazed.
Disclaimer: Hasil yang didapat berbeda sesuai kondisi masing-masing individu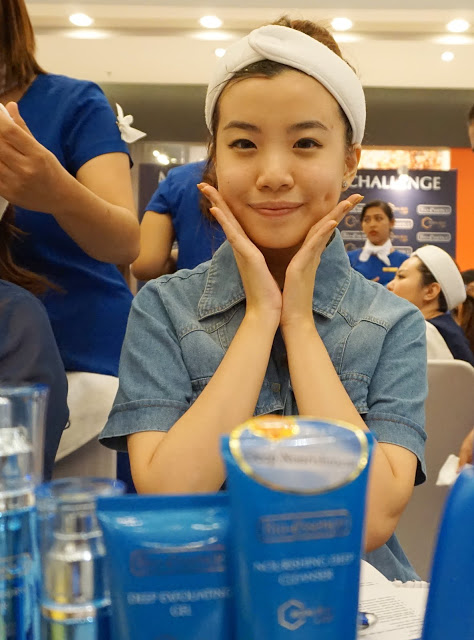 Feeling super fresh after facial, although it feels kind of weird having a facial session in the middle of a mall but it was so relaxing!
Product Reviews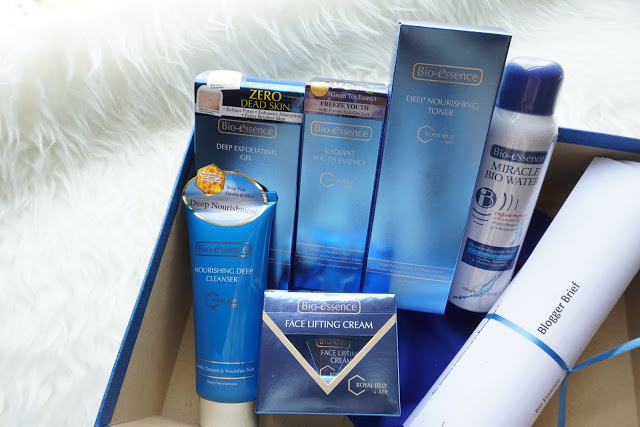 Bio - Essence
is a brand that has been
established since 2001 in Singapore
and it's
Face Lifting Cream Royal Jelly + ATP is no. 1 top selling FLC face cream in Singapore for more than 10 years.
Bio-essence Royal Jelly + ATP
range is a range of anti-aging products that use cutting edge
Bio-Energy
technology in order to provide maximum results.
Bio-essence Royal Jelly + ATP Face Lifting Cream (Face Lifting Cream) provide V-Shape effect on the face by lifting the contours of the face so that the face looks younger.
1. Deep Exfoliating Gel Royal Jelly + ATP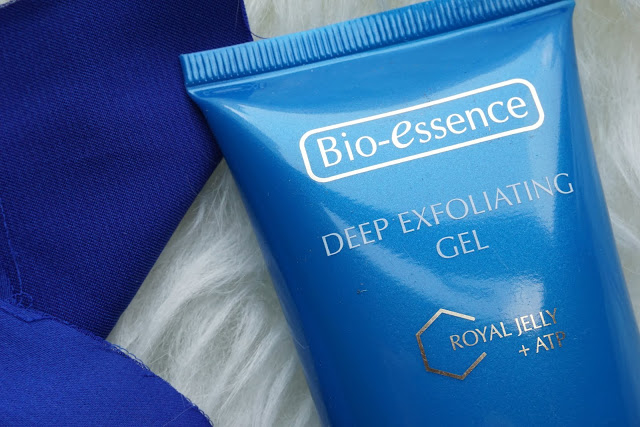 It contains Bio Energy Fluid, Bio Mineral Amino Acid, extracts of fruits and sugar to exfoliate dead skin, and contains Angelica & Wolfberry Extract, Royal Jelly and ATP. I can say this is one of my favourite from all the products in this Royal Jelly + ATP line as it is very gentle and it really exfoliate into the skin. Removing all the dead skin on my skin leaving my skin feeling super soft!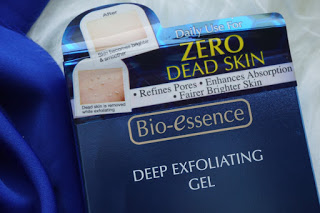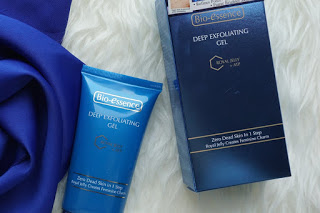 Benefits of the product:
Helps skin appearbrighter, softerand smoother.
Makesmakeup application so much easier, last longer and look more natural
Remove dead skin cells so that the absorption of nutrients on the next product can be better.
Helps reduce exess oil
Gently and painlesly help remove blackheads blackhead black & white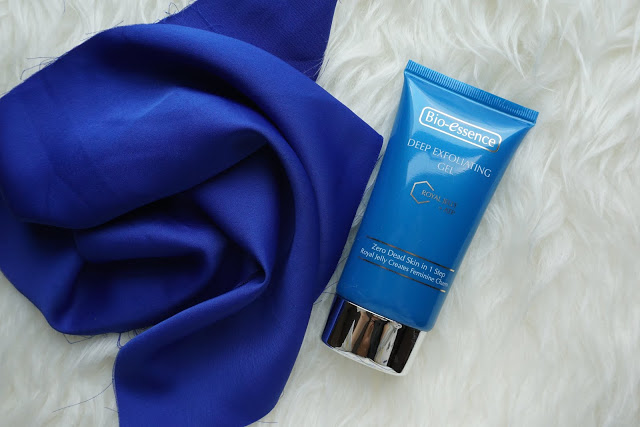 How to Use:
Make sure your face and hands are dry. Apply to a small amount face by rubbing in a circular motion until all the small pieces of dead skin cells and impurities appear. Rinse with water, continue to use Cleanser.
2. Nourishing Deep Cleanser Royal Jelly + ATP (Suitable for dry and normal skin)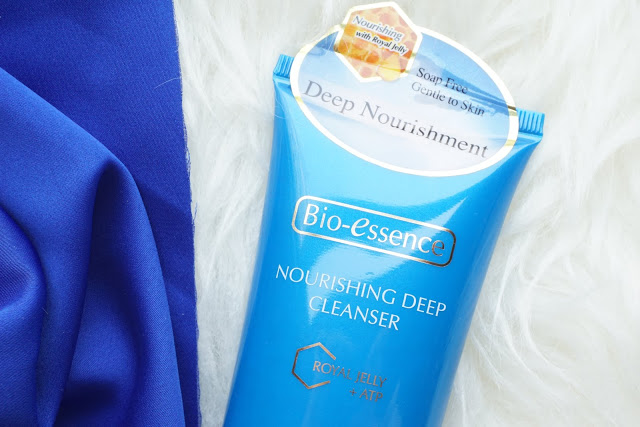 It contains Royal Jelly, ATP, Tanaka Tree Bark Extract and Cucumber Extract and Ginkgo to gently removes and clean face. Nourishing Deep Cleanser Royal Jelly + ATP is suitable for dry and normal skin and Nourishing Foamy Cleanser Royal Jelly + ATP for oily skin and combination skin. After trying out the Nourishing Deep Cleanser Royal Jelly + ATP it doesn't foam up once it's used but I could really feel it cleanse into my skin leaving it feeling fresh and clean without that squeaky clean feeling.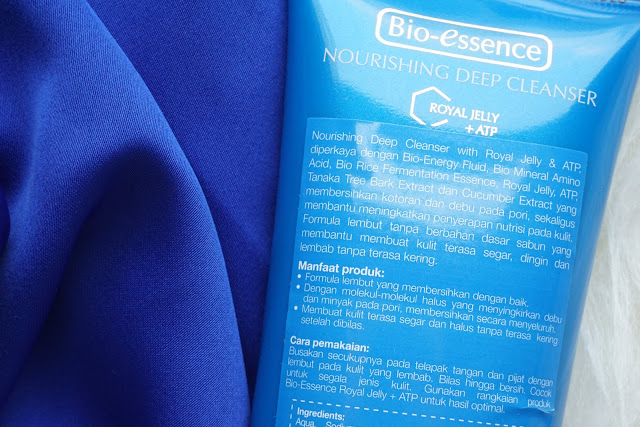 Benefits of the product:
Rich foam gently removes dirt in the pores
With mineral and herbal nutrients for the skin
Do not leave a dry sensation after cleaning
Skin feels soft and smooth
How to Use:
Wet and moisten the surface of your skin, apply enough on product on your face and then gently massage the product onto the skin. Rinse with water.
3. Deep Nourishing Toner Royal Jelly + ATP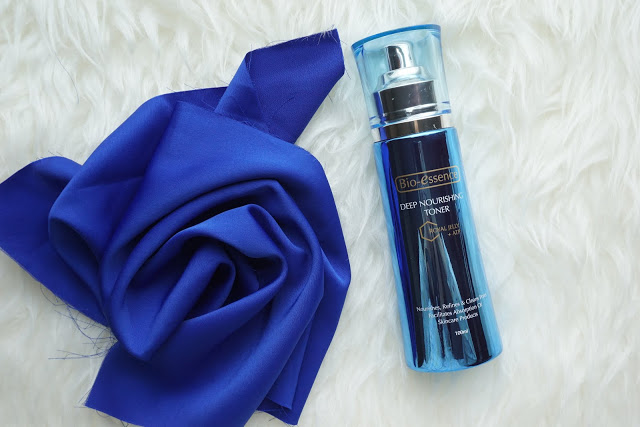 Contains Bio Energy Fluid, Bio Mineral Amino Acid, Royal Jelly, ATP, Hyaluronic Acid & Tanaka Tree Bark Extract and Angelica & Wofberry Extract. This toner helps to prepare the skin for the next skincare step after using it I feel the solution absorb quickly into the skin and I'm happy that Bio- Essence products doesn't have any strong scent. #Majorlove for that!
Benefits of the product:
Helps moisturize and smooth the skin
Make the absorption of other skin care products for the better
Help cleaning up and summarize pore
Helps to nourish and make skin feel more supple and radiant
How to Use:
After using a cleanser, use toner by gently swiping the surface of your face with thr product. Suitable for all skin types.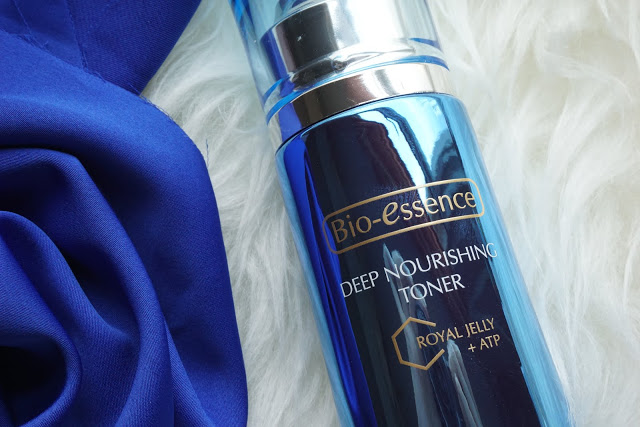 4. Radiant Youth Essence
Enriched with Royal Jelly, ATP, Green Tea Extract and best herbal nutrients such as Ginseng Extract & Wofberry. One drop for softer skin and youthful glow. At first once this product is applied on my skin it kind of feeling oily and greasy but after a few minute I realized the product sink in into the skin without leaving any greasy feeling. This product ca be used as a booster for the skin!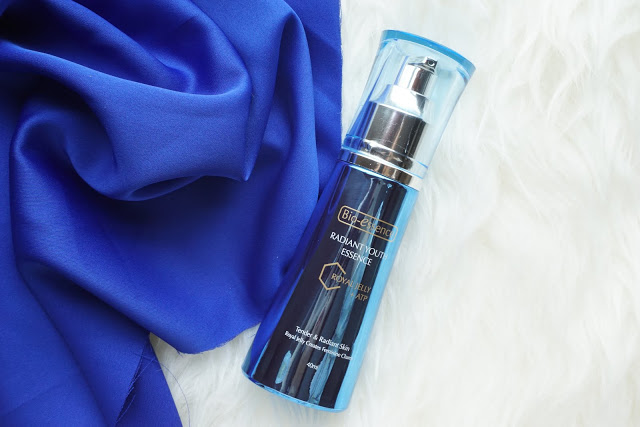 Benefits of the product:
Helps moisturize and nourish the skin
Helps the absorption of skin care products for the better
Contains anti-oxidants to protect the skin from harmful free radicals
Helps reduce the appearance of visible aging signs
How to Use:
Use 2 times a day, massage gently in a circular movements. After applying the product on your skin it may look oily but after 1 minute the nutrition products will be absorbed into the skin without leaving any greasy feeling. Can also be used on hands and feet for brighter and radiant skin. Suitable for all skin types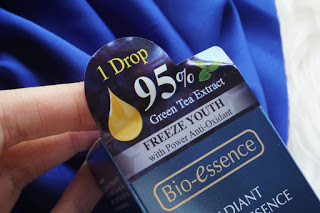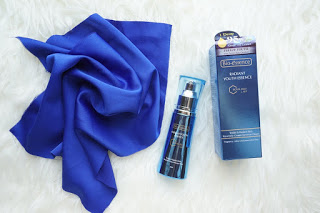 5. Face Lifting Cream Royal Jelly + ATP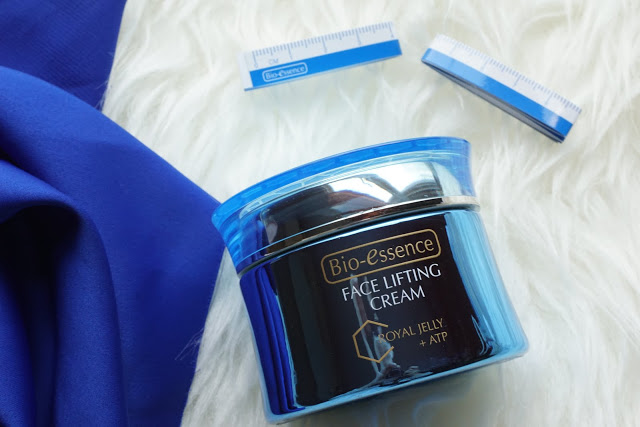 I'm truly impressed with this face lifting cream because I always believed that no skin care can show its effect instantly but this product proved me wrong. It really made me wonder how it made my face contour instantly 1 cm smaller. On my skin this product leaves a tingling cool sensation which I enjoy a lot as it gives my skin a refreshing feeling!
8 Product Benefits:
Helping to lift the appearance of facial contours
Make skin feels tight
Summarizing the pores and helps maintain skin texture
Helps to disguise the appearance of aging lines
Helps nourish the skin and moisturize the skin
Disguise appearance of fine lines & wrinkles
The contour of the face look V, Increase feminine charm!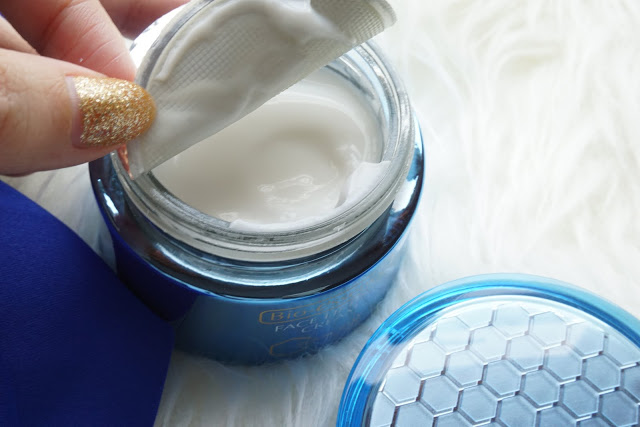 How the cream looks like, it has very light texture and absorb quickly into the skin.
How to Use:
After using cleanser and toner, take enough product with your fingers and gently rub and massage the product with upward movement on your skin. Take a look at tangible results in firming and lifting facial contours in just 10 minutes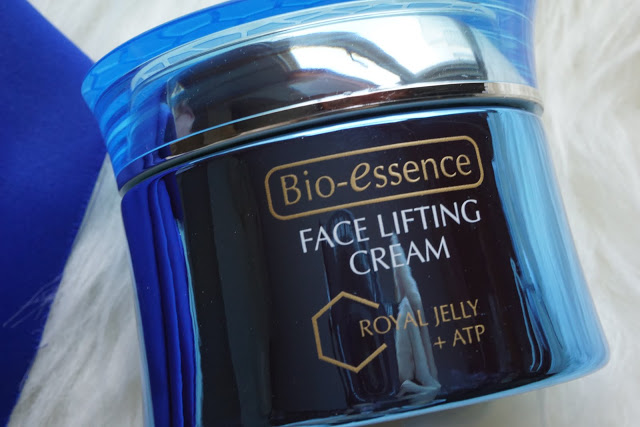 Measurement Method contours of the face:
Measurements before and after using Face Lifting Cream.
After using Radiant Youth Essence, Use measurement tools available in the box RJ ATP Face Lifting Cream.
Measurement starts from the bottom of the ear to the middle part of your mouth (the middle part of the concave), record results.
The meter is placed just above the surface of the skin, not too tight and not too loose
Use the Face Lifting Cream according to the instructions of use and wait for 10 minutes
Measure the contour of the face again by the same method, and see the results.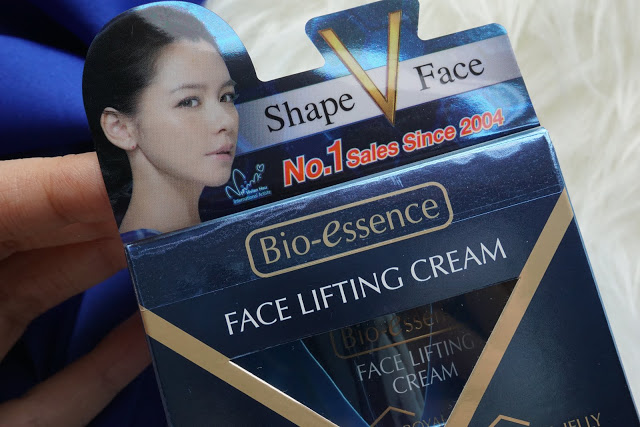 6. Miracle Bio Water
This Bio-Essence Miracle Bio Water can be used for face, hair, body and even on baby. It is formulated with Bio-energy technology which is very much known for its benefit in the dermatology industry. Miracle Bio Water has low salt and mineral composition that gives a cooling, moisturizing and soothing effect on the skin. It also has a balanced pH and hypoallergenic formula that makes it good for those with sensitive skin.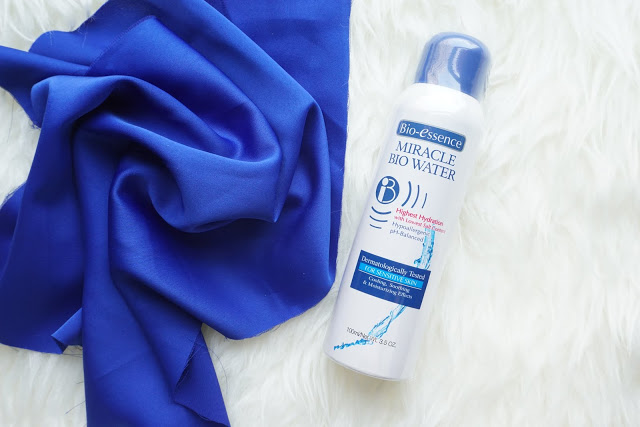 Benefits of the product:
Can be used before and after makeup
Cools and refreshes skin after being under the Sun and after exercising
Cool sensitive skin, reduces the tingling itchy sensation, suitable for those who is committed with prescribed skincare products.
Reduces skin dryness while travelling, giving a comfortable feeling
Can be used as toner (after cleansing ace and before using moisturizer).
How to Use:

Spray it on the area ( face, hair or body) in a 20 cm distant. You don't need to pat it dry after make up.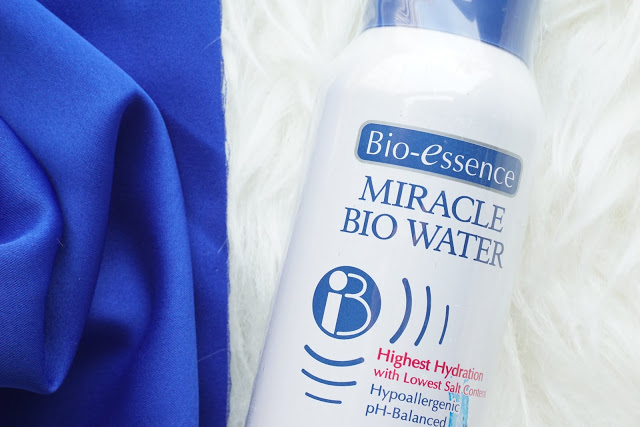 For more information regarding Bio-Essence do check
out their website and social medias: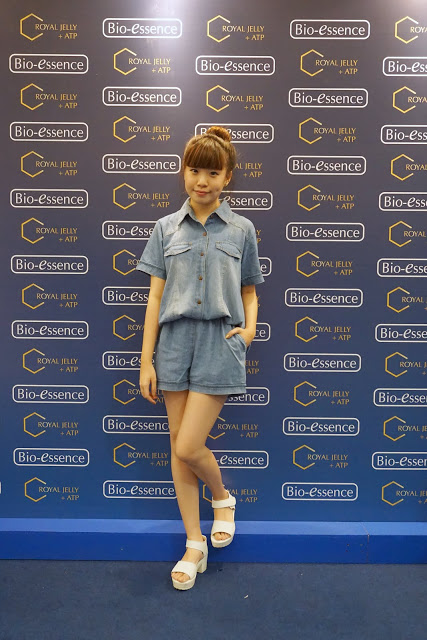 OOTD for the event
I hope you enjoy reading this post, I know it's quite long but I hope it can be useful and answers your curiosity about Bio-Essence brand and products.
Love, Stevie